source: www.youthwork-practice.com | 2000 Games, Devotions, Themes, Ideas and more for Youth Work
only for private using
Dinner
for those who have to cook for large groups
We know dinner is generally rather boring. Cheese-, Ham- or Salami sandwiches are not exactly what excites a connoisseur. Not only does boredom creep in, but it all also becomes that more difficult if you have to cater for a larger group of people. Besides the lack of ideas, there are also logistical problems and the calculation of quantities is difficult, not to mention the time you have to set aside for the preparation.
In "Cooking for Many" you will find the help you need. Below you will find a few examples how to quickly and easily prepare a "dinner for many". And besides that, they are also gentle on your budget. If you are passionate about the preparation of party rolls, cheese rolls or an onion and potato bake, those meals not just read better, they also taste better than your usual sandwich. And the best, they do not even take that more time to prepare. This certainly is a great plus if you can make delicious and healthy meals in just about the same time. Your guest will certainly shower you with praise. – And last but not lease, we are always glad to hear from you and learn about your tips and great recipes for healthy dinner dishes.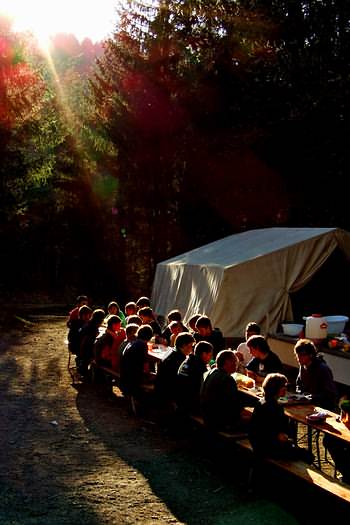 Dinner in the camp | ©: www.youthwork-practice.com
By the way, eating within a group is always great fun. It would be even more enchanting if the meal were prepared together; when the meal becomes the event of the day. Just think of the familiar fondue or raclette.
However, dinner for many does not have to be elaborate. How about, for example, a large pizza where every kid can put together his own slice according to his taste? Or a small buffet of hamburgers or hot dogs, where everybody creates his own food according to their preferences? In this regard, there are countless possibilities.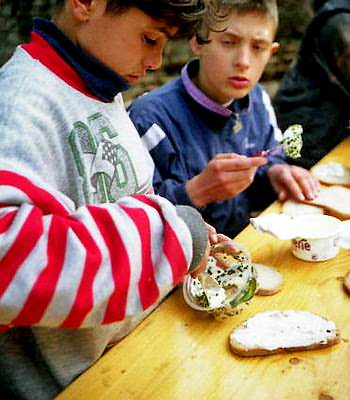 Dinner in the camp | ©: www.youthwork-practice.com
Even soups are very suitable for family meals with many eaters. They can easily be prepared in advance - for example, as goulash soup or potato soup – and they are popular with the young and old.
With those here presented recipes cooking and eating will be great fun for all participants.
Recipes for Dinner
Recipes are coming soon - in the next 4-5 weeks.
[ © www.youthwork-practice.com | 2000 Games and Ideas for Youth Work ]