source: www.youthwork-practice.com | 2000 Games, Devotions, Themes, Ideas and more for Youth Work
only for private using
Grilling & Campfire
for those who have to cook for large groups
Spring now slowly has returned, and all barbeque fans are already planning and preparing for the delicious barbeque season. If the evenings are still too cold for you, you will certainly enjoy a romantic, warm place by the blazing campfire. People meet with friends, neighbours or in clubs and as soon as the food choice goes further then grilling sausages and bacon, ideas are hard to come by. And as always, the size of the group plays a decisive role in all that. Granted, that is not easy. – Unless of course, you had a look at "Coking for Many."
Even those dedicated to healthy eating are not falling short at the barbeque or bonfire. For example, how about grilled vegetables? They can be prepared easily and are finished on the grill in no time at all. And everybody can pick their favourite vegetables.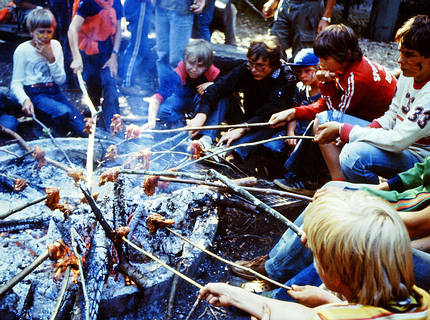 Grilling & Campfire | ©: www.youthwork-practice.com
Another great idea is grilled mushrooms. Big mushrooms are most suitable here. Hollow them out, then fill them as desired, with cream cheese, garlic, ground nuts, etc. the mushroom can be grilled on a skewer of placed directly on the rack.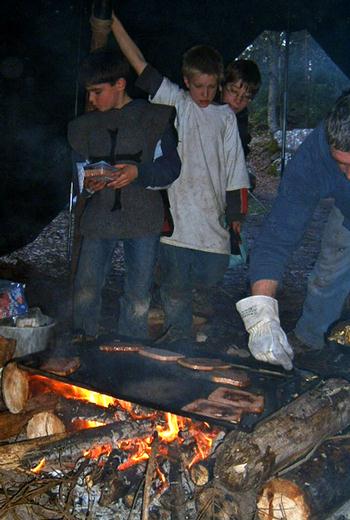 Grilling & Campfire | ©: www.youthwork-practice.com
By the way: It is worthwhile to make dressings for grilled food yourself. Even they are readily available in supermarkets; they might contain undesirable ingredients such as flavour enhancers or artificial flavours. But above all that, if you buy it without any dressing the choice of meat is greater and the quality better.
Here you will find everything for every taste. Great meat dishes, delicious fish, vegetables, bread and great dressings. Everything step by step explained and calculated for large groups. Imagine the excitement of your guests, when you serve grilled mushrooms with herb cream cheese and nuts. Or have you ever served a quark-stick bread? This way, everyone prepares his own breadstick over a campfire from the prepared dough. Particularly when grilling with children, this will make for an unforgettable experience. If you have a great idea about a grill or campfire dish, we are happy to hear from you.
Recipes for Grilling
[ © www.youthwork-practice.com | 2000 Games and Ideas for Youth Work ]