source: www.youthwork-practice.com | 2000 Games, Devotions, Themes, Ideas and more for Youth Work
only for private using
Lunch
For those who have to cook for large groups
What we cook today or tomorrow? There is hardly anyone who has never asked this question; especially when it comes to cooking for a larger number of people. Planning, preparation and quantities this all can be a big challenge at any time. After all, if you are cooking for a large group of people quite a few things are to be considered. Not only do the pots and pans need to be larger, but the quantities also have to be calculated anew because this is quite different than just cooking for a 3 or 4-person household.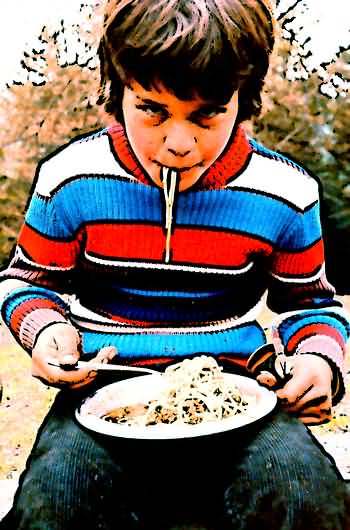 Lunch: Spaghetti-Bolognese | ©: www.youthwork-practice.com
If it comes to cooking for many, you are in good hands with us. Besides the countless recipe ideas, here you will find all the information and preparations you need when cooking for a large number of people. Simply proceed step by step as described below. No longer do you have to worry about quantity, preparation or time. Relax and enjoy the simplicity of detailed instructions. All recipes, thanks to their excellent description are easy to implement. Even for the beginner of cooking for many.
But none the less, we are still interested in your own experience, tips, and recipes. Only because of you, we remain so versatile, unique, exciting and incomparable up to date.
Recipes for Lunch
Pasta
Pasta is a good idea at any time because it is always loved by children. However, here we are preparing Pasta for a larger group of children. What are the alternatives to Spaghetti Bolognese or Goulash with Pasta? Just have a look at "Cooking for Many". At one glance, you will find 25 different, tasty, versatile and healthy pasta dishes. Complete and easily explained from preparation to completion.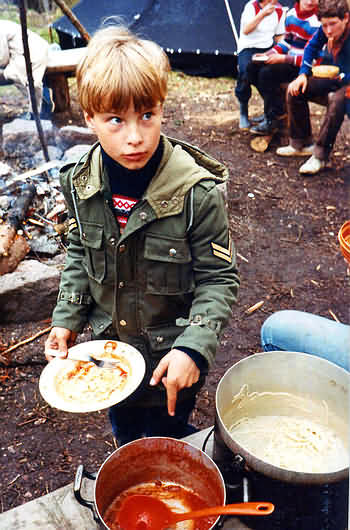 Lunch: Spaghetti-Bolognese | ©: www.youthwork-practice.com
Recipes for Pasta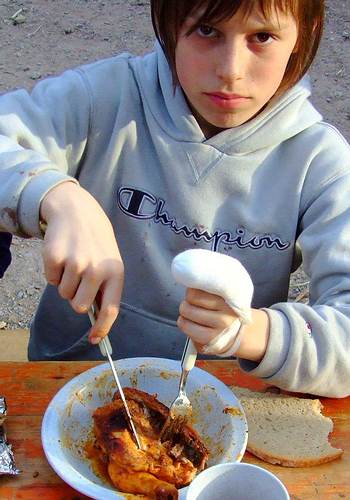 Lunch: Grilled chicken | ©: www.youthwork-practice.com
Meat dishes
Preparing meat dishes for a larger group of people can be said, without any exaggeration, to be challenging. Irrespective of the calculation of quantities, here also come the different cooking times of different meats into play. Visit "Cooking for Many" for delicious recipes and ideas. You can pick from 80 meat dishes what is suitable for you. In an easy way, you can also find personal favourites, right for every occasion
Side dishes
There are certainly not many areas in cooking where we have to make as many consideration as when it comes to side dishes. Particularly when cooking for larger quantities.
How many potatoes do we need for mashed potatoes for 12 people? How do you prepare that? And above all, how can we give the ever-popular mashed potatoes a new twist? When looking at "Cooking for Many," you will find that all is no problem. Here you find the finest ideas when it comes to side dishes.
Casseroles
Casseroles are the favourites on many menus. On the one hand, they can be well prepared, on the other hand, they are very popular. But let's be honest - how many casseroles you know and which are suitable for a greater number of people? In "Cooking for Many" you can find about 35 baking recipes. No longer do you have to be afraid to cook for a larger group of people. Here you find everything right to the smallest detail, all well and easily explained. Just go and convince yourself.
Soups
Soups can be quite easily prepared for several people. They are nutritious and filling, and also very healthy. They virtually offer themselves for camping trips, because, basically, soups cook themselves.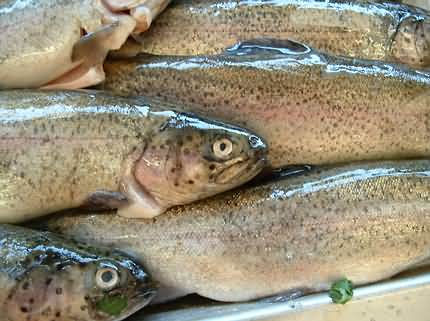 fish | ©: www.youthwork-practice.com
Fish
Regarding the popularity of fish dishes, they are pushing more and more into the foreground, and rightly so. Fish is healthy and low on calories alike. Fish dishes are quite a culinary treat for all your guest. The "Cooking for Many" section contains many great recipes. The recipes are easy to make, the information in regards to preparation and duration are tailored to the cooking for larger groups.

Vegetarian lunch | ©: TrudiDesign - Fotolia
Vegetarian lunch
More and more people nowadays opt for vegetarian food. By now there are already quite a few great recipe books available entirely for vegetarian cuisine. Unfortunately, these are limited in terms of giving information about preparing those dishes for more than four persons. In "Cooking for Many" you will find about 30 recipes that deal only with vegetarian cooking for large groups.
[ © www.youthwork-practice.com | 2000 Games and Ideas for Youth Work ]