source: www.youthwork-practice.com | 2000 Games, Devotions, Themes, Ideas and more for Youth Work
only for private using
Cooking at the camp
Planning ahead
Nutritional Tips
Implementation
Who cooks? Who helps?
Theoretically, anyone can cook. However, you will find, when put to the test, this can be more difficult than you imagined initially. A field kitchen is not hotel kitchen und there is a difference if you have to cook for 10 or for 80 -100 people.
Make sure that the field kitchen has a responsible supervisor, preferably one with a lot of experience. If that is not possible, always make sure the recipes are as simple as possible and more or less "foolproof."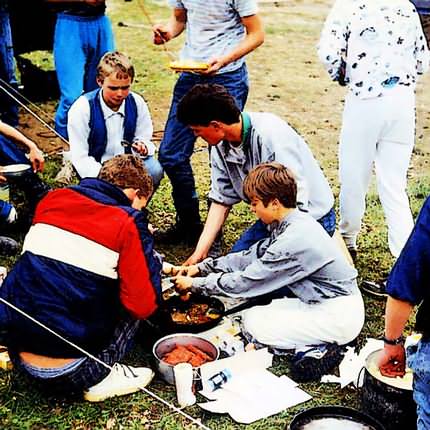 Cooking team | ©: www.youthwork-practice.com
Every cook needs one or more assistants. Either you are lucky enough to have enough staff, at least 2-3 cook assistants or you need to draw on the young people to help with the cooking. In most cases, it will not need more than a little motivation and kids will be happy to help.
If you are hiking, then everybody cooks for themselves. Form teams of 2 children each who can work together. If you are lucky enough to carry one really large pot with you, you can cook for all over an open fire.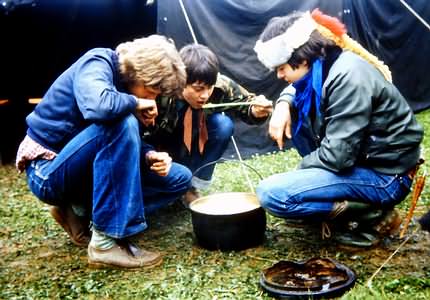 Cooking team | ©: www.youthwork-practice.com
If you are limited regarding staff, then you can hardly afford that 1 – 2 staff are always responsible for the kitchen. Here, experience will come in handy because you will realise that simple and quickly prepared meals are a God sent. Best are meals which do not take more than 1-2 kids and less than 60 minutes to prepare. Ravioli and dumplings are a classic example. It is prepared really fast, and most kids like it greatly. For dessert, there is a yoghurt and an apple; all your cooking is already done.
Very important, everybody who works in the kitchen needs to follow basic hygiene rules. Make sure that at least one person is trained in food handling. Unfortunately, they old days are gone, where on camp everybody could cook what he wanted. These days there are strict regulations.
[ © www.youthwork-practice.com | 2000 Games and Ideas for Youth Work ]