source: www.youthwork-practice.com | 2000 Games, Devotions, Themes, Ideas and more for Youth Work
only for private using
Cooking at the camp
Planning ahead
Nutritional Tips
Implementation
Food from nature
If your holiday leads you into the outdoors, to find some peace and quiet, you might go all the way. That kind of people want to be self-reliant and not going to the store. Those who know how will find suitable food in the bush to maintain their energy balance and satisfy their hunger. If you can live self-sufficiently, that will give you the knowledge and the feeling that you have done something great. The feeling of taking care of your food naturally cannot be replaced with supermarket groceries.
Depending on the season, nature can provide you with quite some edible food. However, you should acquire sound knowledge quite beforehand. If you don't, you can go easily wrong with wild plants, fruits and in particular with mushrooms. Depending on the season, you might find wild strawberries, blueberries, rosehips, wild raspberries and blackberries in the forest. Whenever you out and about with children, be forever watchful that nobody eats any poisons foods such as rowan berries. Therefore, it is important, but educate children and young people, or even other adults about the fruits they better stay away.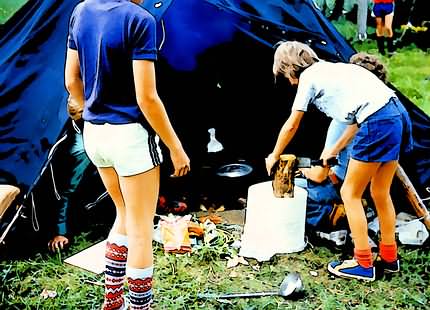 Cooking at the camp | ©: www.youthwork-practice.com
Sometimes even herbs can be found in the forest. And if you are lucky you can even prepare a salad with them. Those herbs include wild garlic, plantain, dandelion, sweet woodruff and nettles. As always, be aware of the possibility of the fox tapeworm. Always wash them thoroughly and whenever in doubt don't use them at all.
Typical foods from nature include honey, game and fish. Bees collect honey, and you need to be forever careful when harvesting it yourself because the bees are ruthless in attacking any honey thieves.
Wild boar, deer and hares are only to be shot by people who have a hunting license. The game hunting is regulated, and there is more to it than just running through the bush, shooting everything that runs in front of your gun. It is important to stick to all regulations for this area. Poaching is a crime and therefore punishable.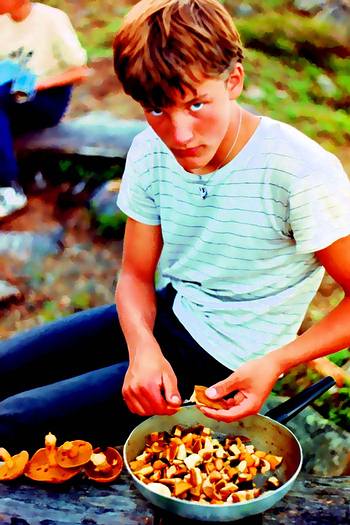 Cooking team | ©: www.youthwork-practice.com
Fish are found in many still and flowing waters. However, it is important to get informed well in advance about whether you can go fishing, or whether you need a fishing license. If you are caught fishing at a place where you need a licence, you are risking a heavy sentence. The authorities are tough on offenders. For safety's sake, you should, therefore, take a fishing license with you. Best you require this licence before you start your holiday or at least know where you can get one on site.
One word of caution to mushrooms: They are growing in the wild but should always be treated with caution because there are many poisonous mushrooms looking just like those which are edible. However, from mushrooms which are widely known to be poisonous, such as the "magic mushroom" you should stay away. If you go harvesting mushrooms with children, make sure you have a mushroom expert with you. While there are some mushrooms, which will cause you "just" a slight stomach upset, there are other mushrooms which are deadly if consumed. For your own safety and those of the children with you, when in doubt, do not eat the mushrooms.
[ © www.youthwork-practice.com | 2000 Games and Ideas for Youth Work ]