source: www.youthwork-practice.com | 2000 Games, Devotions, Themes, Ideas and more for Youth Work
only for private using
Cooking at the camp
Planning ahead
Nutritional Tips
Implementation
Shopping
What you will buy before you go on camp depends largely on the shopping possibilities at site, the storage facilities as well as there is a fridge. When we went for out Easter camps, we always had to shop almost everything beforehand as over the Easter holidays all shops are closed. It was only the bakery we could strike a deal with and got freshly baked rolls for breakfast every day. All else had to be planned and shopped beforehand.
Well, and if you have to buy food for 50, 70, 100 or more people, you will need not only a food transporter, you will also need a few helpers pushing the shopping trollies through the supermarket.
Find out if there is a supermarket close the camping site. It's worth to undergo a price check. Usually, you can strike a deal with bakeries and butchers. Sometimes even with a small supermarket. Sometimes we were able to get food even after closing time.
Which groceries will I need right at the beginning?
How long will they last?
When do I need to buy more food and what?
Where can I buy these foods?
When is closing time at the shops close to the camping site?
Who is responsible for the shopping (this person may then not be scheduled for any other program)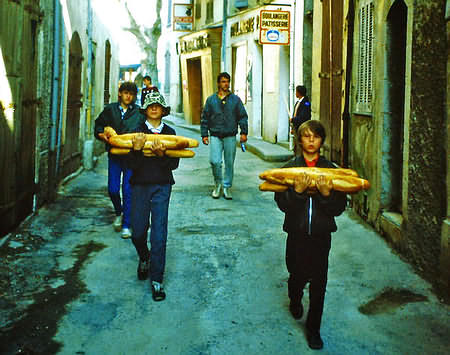 Cooking team and shopping | ©: www.youthwork-practice.com
What can all go wrong?
Wrong planning? The shop does not have the required amounts in stock? Shopping takes too long, and the kitchen crew can't start? Transportation of large quantities is not available. The management of large amounts sometimes requires more than 1 person.
[ © www.youthwork-practice.com | 2000 Games and Ideas for Youth Work ]